Characteristics of the trillion diamond
The trillion cut diamond is more unusual than the other diamond shapes and is also known as the trillion cut or trilliant cut. The trillion cut diamond is a triangular shape which sometimes comes with slightly curved sides. This slightly curved side makes the trillion diamond look softer. However, there are straight edged trillion cut diamonds which do not have curved sides. Which you prefer better is of course based on personal taste.
The cutting was developed in Amsterdam in 1978 by Leon Finker. The shape is inspired by the square-shaped diamond, radiant cut. Leon Finker cut the radiant into a triangular shape as the first person back in that time. The width-to-length ratio of the trillion cut diamond is 1 to 1, since it must be cut into the form of an equal triangular shape. No matter if the trillion is sharp cornered of slight cornered. In addition, the trillion cut diamond has 44 facets up to 50. Based on this cutting the diamond has a very sharp sparkle and fire. But only if the diamond has the correct cut and depth.

●

The popular use of trillion cut diamond

Every individual has its own taste of diamond shapes that can, for example, be cushion, princess, round, heart or radiant. If you like trillion cut diamonds as a solitaire it is smart to have a setting with a three V-shape prong, this way you can properly protect the corners.

The trillion shaped diamond is very favorable to use to accompany the center diamond. This means that this cut is often used as matching side-stones. The center stone that combines well with trillion shaped diamond is often the emerald cut, oval cut, cushion cut or radiant cut.

As well as matched side-stones, trillions are also very popular for stud earrings and pendants. However, extravagance is getting more popular in-ring styles whereby more trillion solitaire rings are popping up.
Expert advice for trillion cut diamonds
A trillion cut is a triangular shape of three equal sides that are 31 or 50 facets. The 31 facets are the trillion diamonds used as accent stones and the 50 as solitaires, keep that in mind as that will influence the sparkle.
The trillion diamonds that are for solitaires are also a curved or convex cut while accent stones are cut uncurved or concave. In addition, choosing the right trillion, cut with the correct depth, will result in a diamond with a unique style with great fire and displays a beautiful sharp brilliance.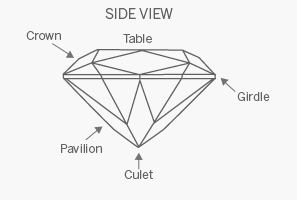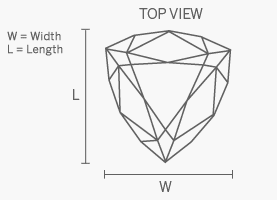 The depth of the diamond is an important factor when you're considering a trillion diamond as a solitaire. A well-cut trillion with great fire and brilliance can even hide inclusions a bit.
Depending on the ring setting for your trillion diamond ring, it is best to choose GIA color grade above H and calrity grade above SI2. In addition, a trillion needs to be symmetric and which is why you need cut grade "Good" as your minimum. As for depth, stay between 32% and 48% so the diamond does not get too shallow or has a dull sparkle.
Cons of a trillion cut center diamond you can avoid
A trillion cut diamond looks unique in a diamond ring but there are some factors that can make it a negative choice. Three cons you can easily avoid:
Trillions are vulnerable to chipping, as the cut has pointed ends. So if you are looking for loose diamonds in the trillion shape, be extra careful. However, this con is easy to avoid if you set the diamond in a three-prong  V-setting to protect the stone.
They are difficult to put into settings compared to other diamond shapes. Especially due to the easy chip of the sharp edges. Choosing for an expert jeweler will make this con disappear as they know how to set the diamond without harming the spark or edges.
The stones are easier to get dull because the cut is more shallow and have less dept than other cuts. A little bit of dust can dim the spark. Cleaning the diamond more often can help you stay sparkling.
Trillion cut diamonds look larger
It is true, trillion cut diamonds usually look larger compared to the round cut diamond of the same carat.  So if your budget won't stretch to that carat size you're dreaming of, picking a shape that appears large will help. Marquise cut diamonds and trillion cut diamonds are shapes that are cost-effective due to the larger appearance.  The reason is that trillion cut diamonds are cut shallow, but at the same time wide.
But remember, don't go for a trillion that is too shallow as it may have less brilliance as there is not enough depth to reflect the light to sparkle.
Popular trillion diamond ring styles
Trillion diamond set in V-setting but accompanied with a fashionable ring stacker. 
Set with a diamond halo
Multiple trillion cut diamonds set in an eternity band
The trillion cut diamond turned to match the east-west ring setting style
The trillion set with a halo between ring bands
Would you prefer this unusual but sparkling trillion cut diamond as your engagement ring?
Feel free to reach out to our experts to find out today's diamond prices for trillion cut diamonds.